Southern Fried Catfish Nuggets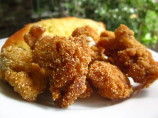 Photo by gailanng
Prep Time: 10 mins
Total Time: 40 mins
Servings: 5-6
About This Recipe
"This is the only way I've ever had catfish. I can't stand to eat it fried in restaurants, it tastes muddy to me, but I can eat it this way."
Ingredients
1 -2 lb catfish nuggets
1 egg
2 cups buttermilk ( can use regular or lowfat milk)
3 cups cornmeal
salt and pepper ( other seasonings you want)
oil
Directions
In a large bowl beat egg with a fork, add buttermilk to it. Beat again to incorporate.
Put oil in a skillet until it is halfway up or you can use a deep fryer, a deep fryer is actually best for these. Heat until hot or if using skillet use medium high heat.
In another big bowl put cornmeal and seasonings to taste.
Rinse nuggets and dip into milk mixture, depending on how many you have you could probably fit them all in at one time.
Take a few out of the milk and dip in to the cornmeal, roll around to get it coated good, then put into oil.
If using skillet put them in until skillet is full. fry 3 minutes, turn and fry another 2-3 minutes. If using a deep fryer fry 5 minutes, about halfway through stir them around to break up any that might have clumped together. They are done when golden brown and flake easily with a fork.